Quick summary
Options trading, until recently, was exclusive to centralized exchanges. While this reduces fees, centralized exchanges maintain custody of your assets. This puts you at risk, as a third party controls your assets, not you. Now, there are decentralized alternatives available to use! This gives you complete control, and this article will go through the best!
Disclaimer: Options trading is risky. Before using any of these options, do your own research. A good place to start is with Deribit's excellent primer on options trading. 
How do options work?
Options give traders the ability to bet on the price direction of an asset. For example, if a trader thinks the price of a cryptocurrency will increase, they can buy a call option. This gives them the right to buy an asset at a specific price on the expiry date. And, if they think the cryptocurrency will decrease, they buy a put. Again, this gives them the right to sell the asset on the expiry date at a specific price. 
Let's run through an example. 
If the price of ETH is $1700, and a trader thinks that it will increase, they can buy a call option at $1800. At the expiry date, if the price of ETH is $1900, the trader can buy ETH at $1800 because of their call option. They can then sell it at market value for $1900, making a profit of $100 before fees.
Inversely, if the price of ETH is at $1700, and a trader thinks that the price will decrease, they can buy a put option at $1600. At the expiry date, if the price of ETH declines to $1500, the trader can now exercise their option, selling ETH at $1600. As the price is higher than the current market rate, it gives the trader a $100 profit before fees.
Options give traders the right to buy an asset at a specific price without any obligation. If these two hypothetical scenarios don't work out for the trader, they don't have to buy the ETH. But, the trader will always pay a fee for the option to buy. 
Best option trading Dapps
Trading options have mainly happened on centralized exchanges. But this is now changing. Here are some of the best decentralized options trading Dapps!
Opyn
Opyn is the first decentralized options trading platform, initially allowing you to buy, sell and mint fully collateralized options. Now, with a recent update, you can trade partially collateralized options. If you want to learn more about this, watch the tutorial by The Defiant. 
Opyn's user-friendly dashboard shows users what each option does with the fee structure broken down. When a position gets taken, users can track it on the 'dashboard' section. Traders have access to options for wBTC and wETH, with more currencies being available in the future.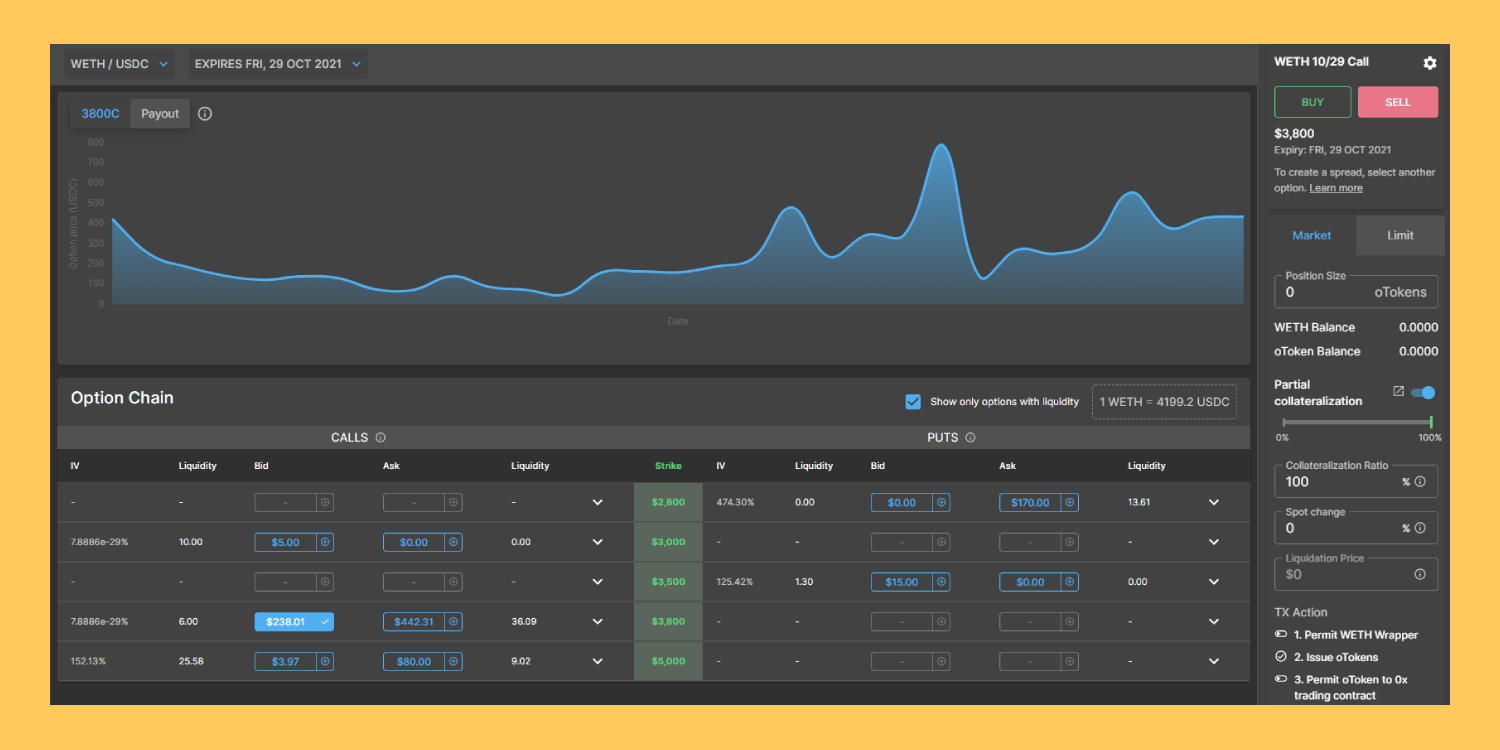 Website: opyn.co
Twitter Account: @opyn_
Hegic
Hegic offers gas-free option trading for wBTC and ETH (minimum 1 wBTC or 10 ETH). With its easy-to-understand user interface, you can choose how many options you want and how long you want to hold the contract. The costs are displayed to you and there is a profit calculator which adjusts based on the terms of the options contract so you know how much you could potentially make.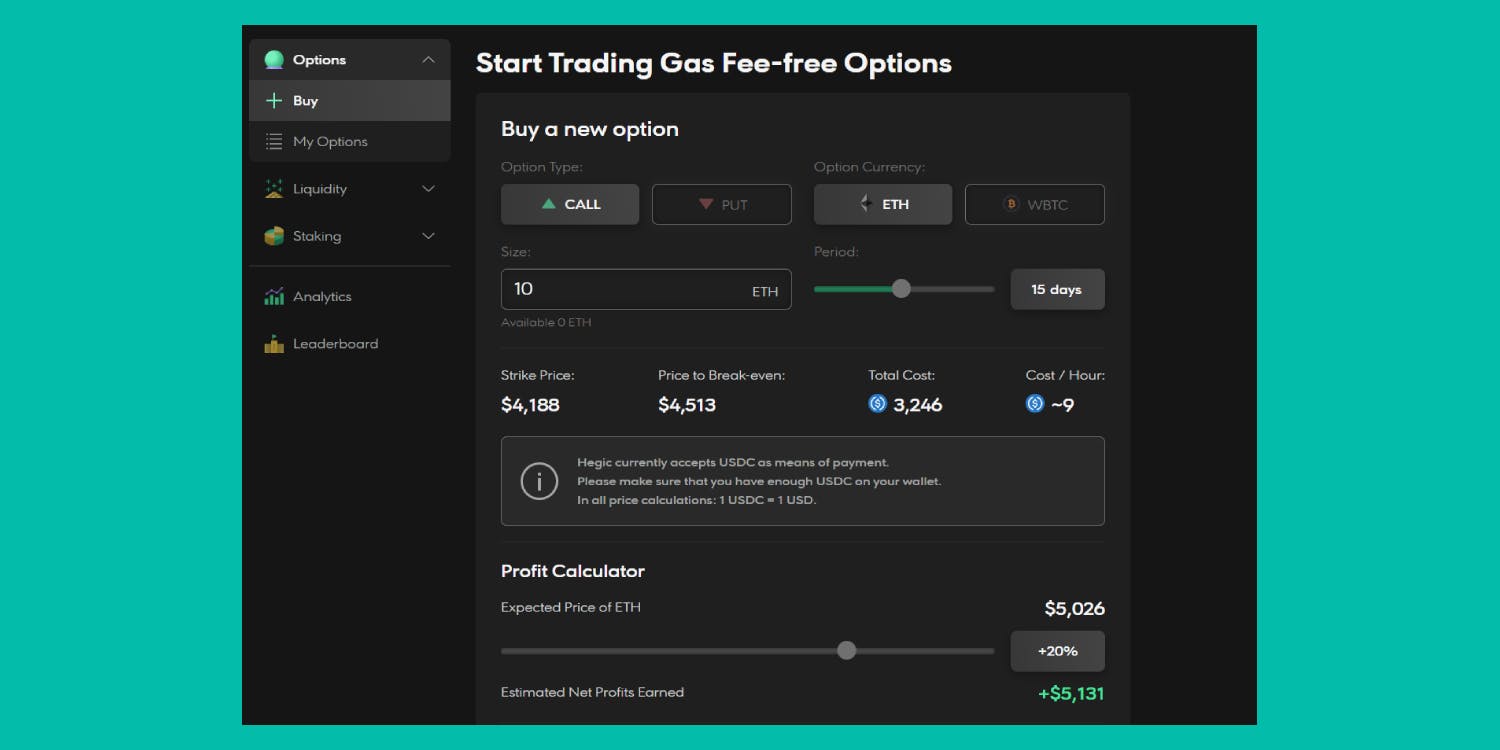 Website: hegic.co
Twitter Account: @HegicOptions
Ribbon
The final platform on this list is Ribbon finance. Unlike Opyn and Hegic, Ribbon offers structured finance products like covered calls or put-selling in their vaults to generate yield for investors. 
Covered calls are where an investor thinks an asset they own will decrease in value, so they sell a call option against their asset to earn a premium. Whereas put-selling is when the investor thinks the price will increase, so they sell put options on their asset to earn a premium.
To use Ribbon, traders deposit their crypto into their chosen Ribbon vault, which will automatically run the intended trading strategy on their asset.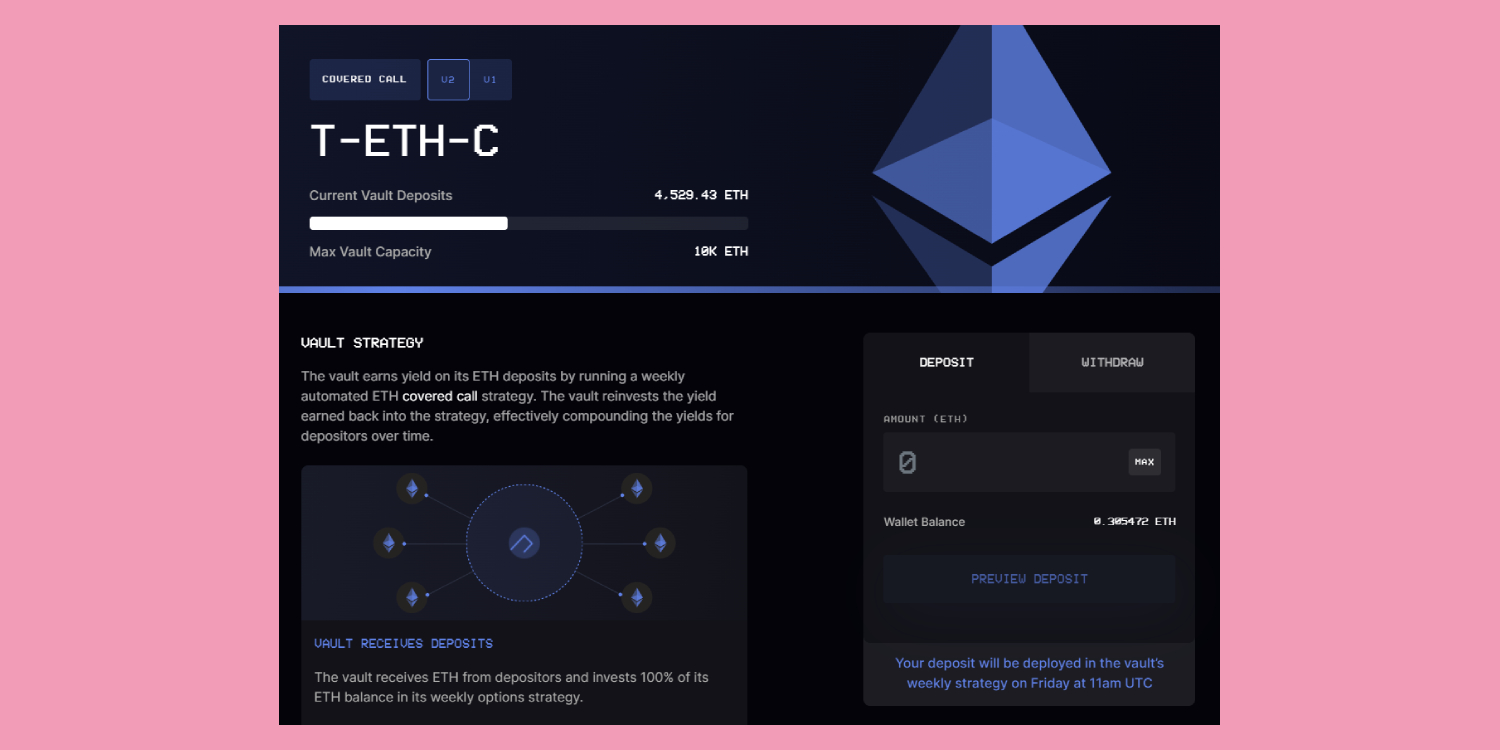 Website: ribbon.finance
Twitter Account: @ribbonfinance
Further resources
options TVL Rankings - Defi Llama 
A Comparison of Decentralized Options Platforms | by Ryan Tian | Coinmonks 
Comparing Defi Options Trading Protocols | Hegic, Hedget & Opyn | $hedget $hegic $eth 
How to Hedge with Hegic On-Chain Put Options 
A Random Walk Through DeFi with Ribbon Finance 
Opyn Learning Group: DeFi Option Strategies for Different Market Environments with Trader Dojo 
How to make money with automated options strategies with Ribbon Finance 
Ready to get started with DeFi?
Argent is a simple, secure, all in one wallet for investing in DeFi
Download Argent