gm - we've tweaked the newsletter by adding a summary at the start to reflect your feedback from our survey. Let us know what you think. 
TLDR: 
Ethereum is one step closer to the Merge, which will cut energy use by 99.95% and boost scalability after the Kiln testnet success.
We're sharing resources on how to work, code & build apps in Web3.
BAYC acquired the CryptoPunk & Meebit collections from Larva Labs, hinted towards something exciting, and launched $APE!
You can now buy all the Index Coop indexes on Layer 2. Argent X broke another milestone & received a major upgrade. 
🌍 One step closer to ETH 2.0  
Ethereum is undergoing a huge update known as ETH 2.0, which aims to make Ethereum more scalable, sustainable, and secure. This week, the first big testnet successfully merged to Proof of Stake. This brings us closer to Ethereum's mainnet merge, which will see energy consumption dramatically reduced by 99.95% and lays the foundation for improved scalability.
The importance of the shift to Proof of Stake for Ethereum is hard to overstate. This week the European Parliament debated banning Proof of Work due to environmental concerns. It was voted down. But increasingly, we're seeing more people concerned about the environmental impact of blockchains. 
🧱 Start building in web3 (we're hiring!)
Some of the most popular links in our newsletters have been on how to work and build apps in web3. That's why we wanted to share this Bankless Podcast with Austin Griffith, who has helped thousands get started on their Web3 journey.
If you're keen to get started but unsure of where to start, check out the Public Good Blockchain Development guide. It's full of great resources that will help you learn to build on Ethereum and Layer 2s. There's no better time to get started than this weekend! 
🦧 BAYC pushing the boundaries of NFTs
Yuga Labs have been very busy. They first acquired the CryptoPunks and Meebit collections from Larva Labs and gave them full commercial rights. This allowed Punk and Meebit holders to commercialize their NFTs however they like. Something they couldn't do before.
Yuga Labs is also planning a huge virtual land sale for the game they're creating. This may be linked to the new partnership between BAYC and Animoca, the team behind The Sandbox. If that wasn't enough, Yuga Labs also launched APECoin for all BAYC and MAYC holders. It'll be exciting to see how Yuga Labs will continue to push the boundaries of NFTs. 
🎧 Our favorite podcasts & reads
With prominent DeFi builders Andre Cronje and Anton Nell stepping down from contributing to DeFi projects, it makes sense to share YFI History, an interactive history of YFI. YFI was started as a project by Cronje, then handed over to the community, becoming one of the leading DeFi Dapps. 
Our other recommended reading is this piece on the controversial founder and ex-CEO of Tron, Justin Sun. It alleges that Sun committed crimes including insider trading, evaded US and Chinese financial regulations, and grand jury exploring a long list of potential charges. It's all backed up by former and current employees and internal documents. It's wild. 
For podcasts, we recommend this Blockworks episode with ZachXBT, the on-chain super detective. Covered is how Zach finds and exposes crypto scams, how to detect frauds, and the death threats he's received! Here are notes and a follow along guide.
💥 Argent update 
You can now buy all the Index Coop indexes (DPI, DATA, MVI, BED & GMI) on Layer 2. It's easy to do, just open up the Argent app, tap invest, then crypto indexes. Indexes are a basket of tokens giving you one-tap exposure to a specific sector, like DeFi. 
Argent X, the first wallet for StarkNet, has hit 50,000 users and we also released a new version 3.0.0, which supports native multicalls, Proxy accounts, and fees. However, unlike standard browser wallets, every wallet is a smart account which is very important. Here's why: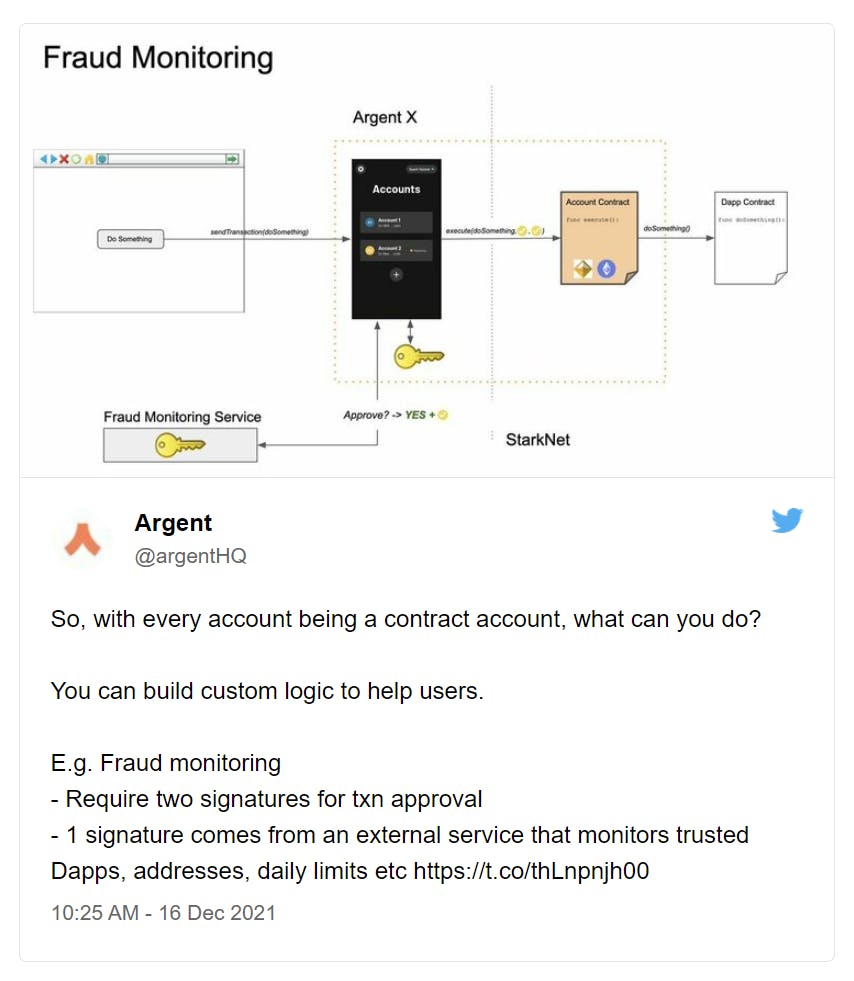 Take control with Argent
A simple, all-in-one crypto wallet with bulletproof security. Buy, stake, earn and trade with low fees. Join our global community.
Download Argent