You'll know how high gas prices are if you've used Ethereum in the last few months. We wanted to update you on how we're navigating this by working on layer 2, cutting our gas costs and improving the user experience of gas. All the while staying true to our mission of empowering everyone to control and benefit from their digital assets and identity.
To be upfront about what will likely be a less popular decision, we'll no longer pay the gas for all transfers in Argent. This post explains why, and how we're tackling the structural issues of gas prices instead of papering over them with subsidies.
---
Overview of the gas price rises
First, some context on the painfully high gas price.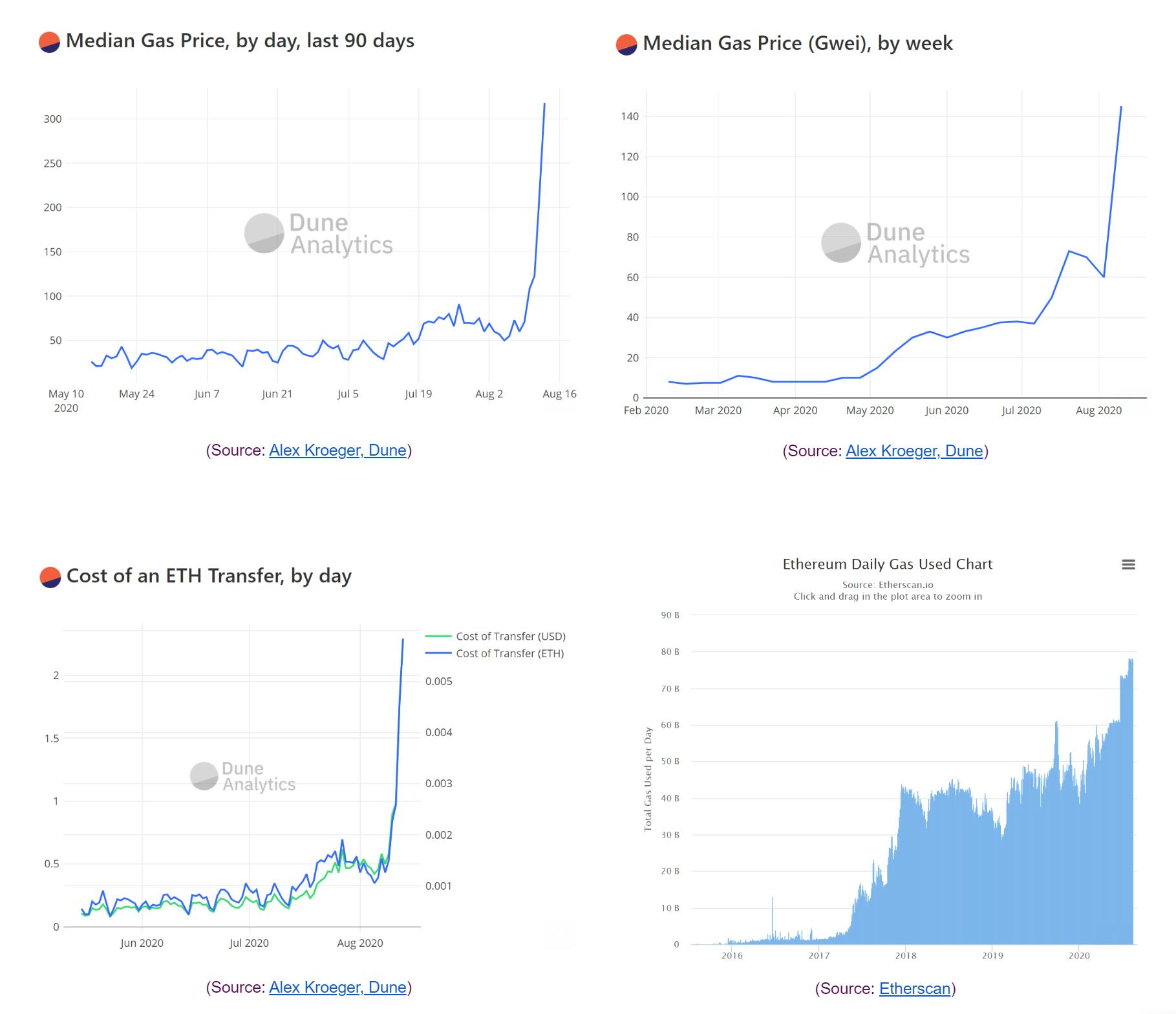 These charts are positive in one respect: Ethereum is busy because its insanely talented and passionate community has built outstanding projects that people want to use.
The downsides are significant, though. Most importantly for the ecosystem, the gas prices deter people from joining and make many use cases illogical without a bigger budget.
Moreover, for us as a business, it's had a big impact on our costs. The total gas cost of every transaction made by our highly active user base in July alone was $400K. It's important to note that this was largely paid by our users and integrated Dapps, but we've still been subsiding thousands of dollars a day due to transfers, security-related actions, wallet creations and more.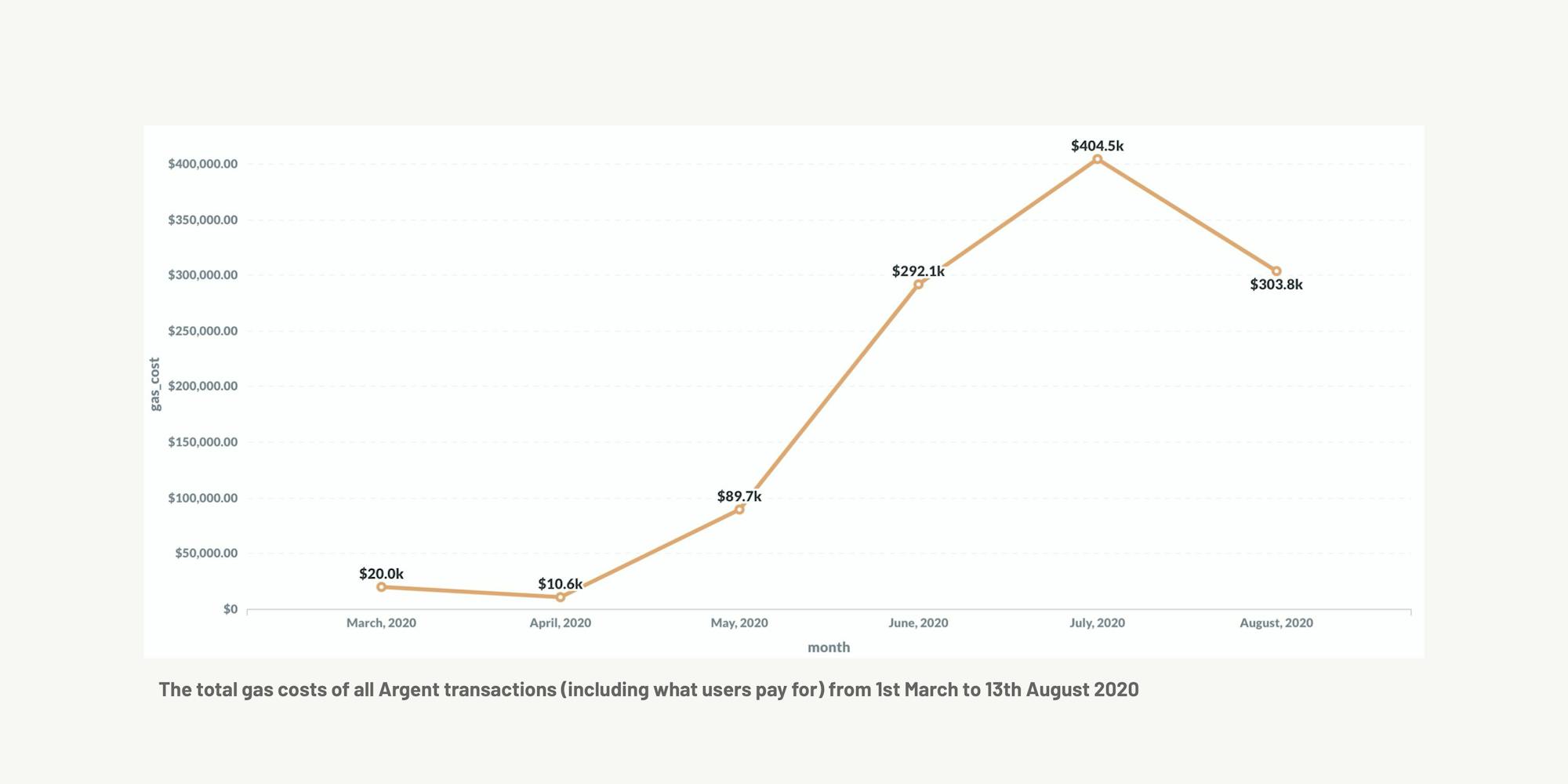 Our costs have also increased because we've picked up some real momentum in our user base (and assets in wallets) since coming out of Beta in mid-May.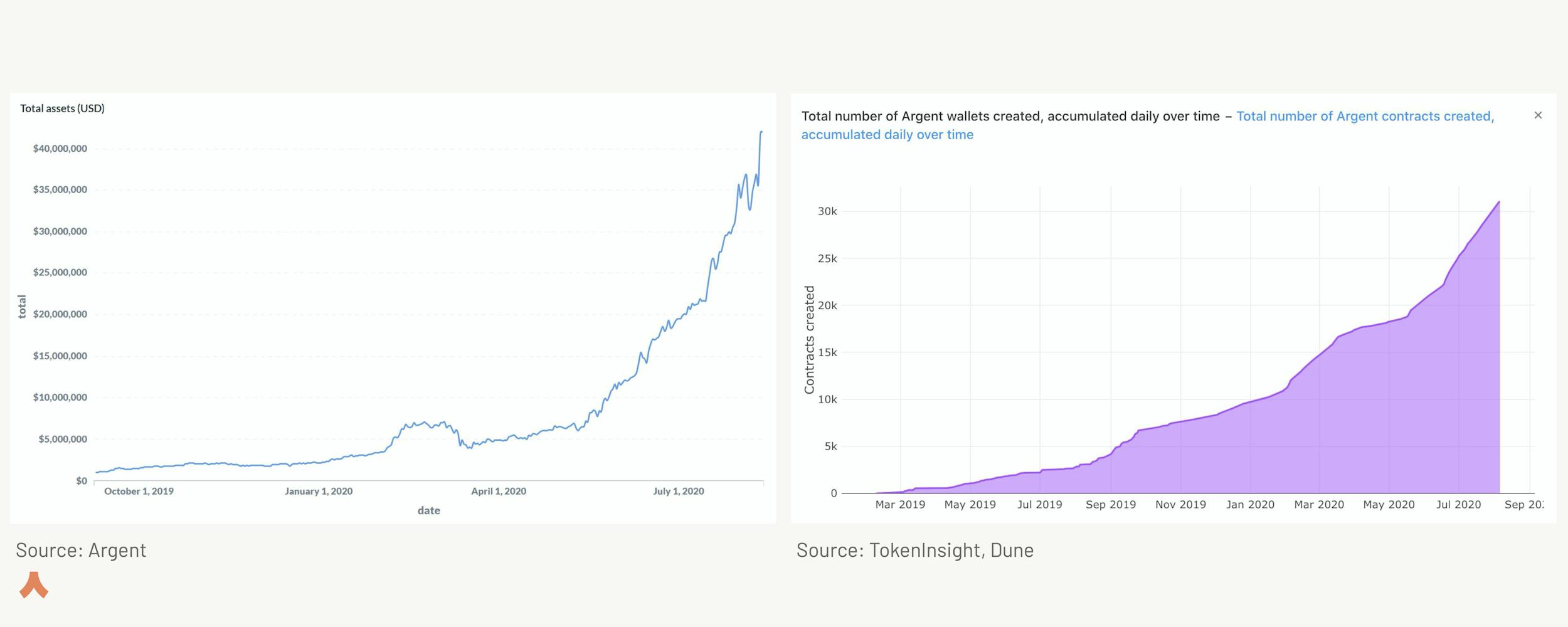 So, what are we doing about the gas cost?
Structural fixes over subsidies
When we launched we knew gas was a poor experience for people, so we hid it completely from the user and paid it ourselves. But, due to the spiralling costs, we stopped subsidising DeFi a couple of months ago. And now we'll stop subsidising transfers. We know this will frustrate some of our users, so why are we doing it?
Rising gas costs: As explained above, the costs are not sustainable for us when our whole user base is added up. On the other hand, for users it could just be a few dollars a month. We think it's better for people if we focus our resources on the root cause of the gas prices - the lack of scalability - instead of subsidies.
Misaligned incentives: Subsidies were indirectly contributing to network congestion as people had no incentive to delay non-urgent transfers at peak times. A pay as you go model helps people to more accurately evaluate when they should transfer.
Abuse: Unfortunately a few users did abuse the subsidies by minting endless gas tokens, or making 100s of tiny transactions a week. This impeded our engineering team, who had to spend valuable time monitoring the situation and figuring out how we could deliver the best possible product for our genuine users.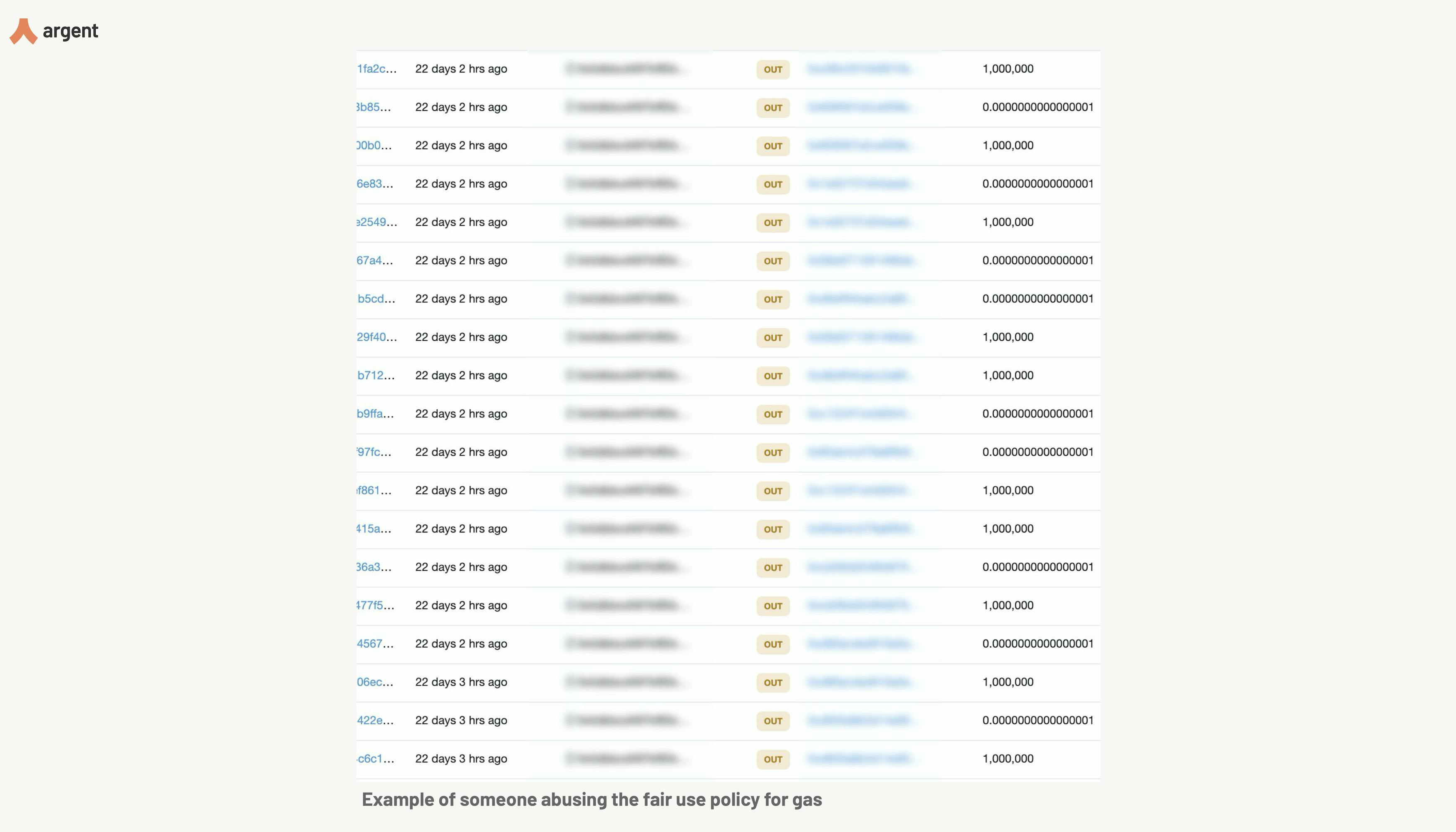 When does the new gas policy start?
We're rolling out the updated policy on transfers from tomorrow. Once live, when you transfer you'll see an option to pay the gas in ETH, DAI, USDC, BAT, ZRX, WBTC, REP.
If you don't have those tokens, please add them to your wallet. Alternatively, please withdraw your assets from Argent.
Why not allow X amount of free transfers a week?
We discussed this a lot but the risk is that it creates more uncertainty. If gas prices rise even more, and/or our user base does too, we may need to reduce the number of free transfers again and again. By making it pay as you go from now, everyone knows where they stand.
What are you doing to minimise the impact of gas?
Our aim is still for the smoothest experience around. To this end we're going to keep polishing the following:
Automatically picking the best gas price based on network conditions. We do this to minimise the risk of your transactions failing and you wasting gas on nothing.
Warning you in-app when there's severe congestion
Clearly showing the gas price before you confirm the transfer
Helping you pay for gas in a range of ERC20s so you don't always need ETH
We'll also continue to welcome Dapps's offers of free gas to Argent users, as Maker does at the moment.
More substantially, we're working on Layer 2 scalability solutions.
What we're exploring for Layer 2
We've been researching Layer 2 opportunities for a long time and have started to work with the best team in the space. It's not going to be a panacea for all gas-related issues, and it will lead to complexities with the interoperability of DeFi. But we're confident that the ecosystem will radically improve the scalability of Ethereum. With Layer 2, we believe we'll be able to make transfers free again, or at least extremely cheap.
We'll update everyone on our plans later in the year.
Conclusion
We'll never profit from gas. We're committed to addressing the root causes and making Ethereum accessible to everyone. We'd love to hear your feedback in our Discord, or via support@argent.xyz.