Quick summary
ZkSync is a Layer 2 scaling solution on Ethereum that offers low gas and fast transactions, without compromising on security. People can withdraw assets to Layer 1 at any time. Argent has chosen zkSync for the launch of its Layer 2 wallet.
What is zkSync?
zkSync is a Layer 2 scaling solution that offers cheaper and faster transactions than the main Ethereum blockchain (Layer 1). Layer 2 solutions move most activity away from Layer 1, while still inheriting its security and finality.
Argent is building a L2 wallet using zkSync and we are now gradually rolling out Beta access to users.  
What are its benefits?
zkSync significantly reduces gas costs without sacrificing security or user control. 
zkSync gives you:
Low gas: up to 1/100 of L1 gas & cheaper than using optimistic rollups
High speeds: 2000+ transactions per second (tps) compared to 14tps on L1
Security: secured by the main Ethereum blockchain 
Frictionless transfers: effortlessly move your crypto between L1 and Layer 2 without delays
Censorship resistance: you can move your assets back to L1 at any time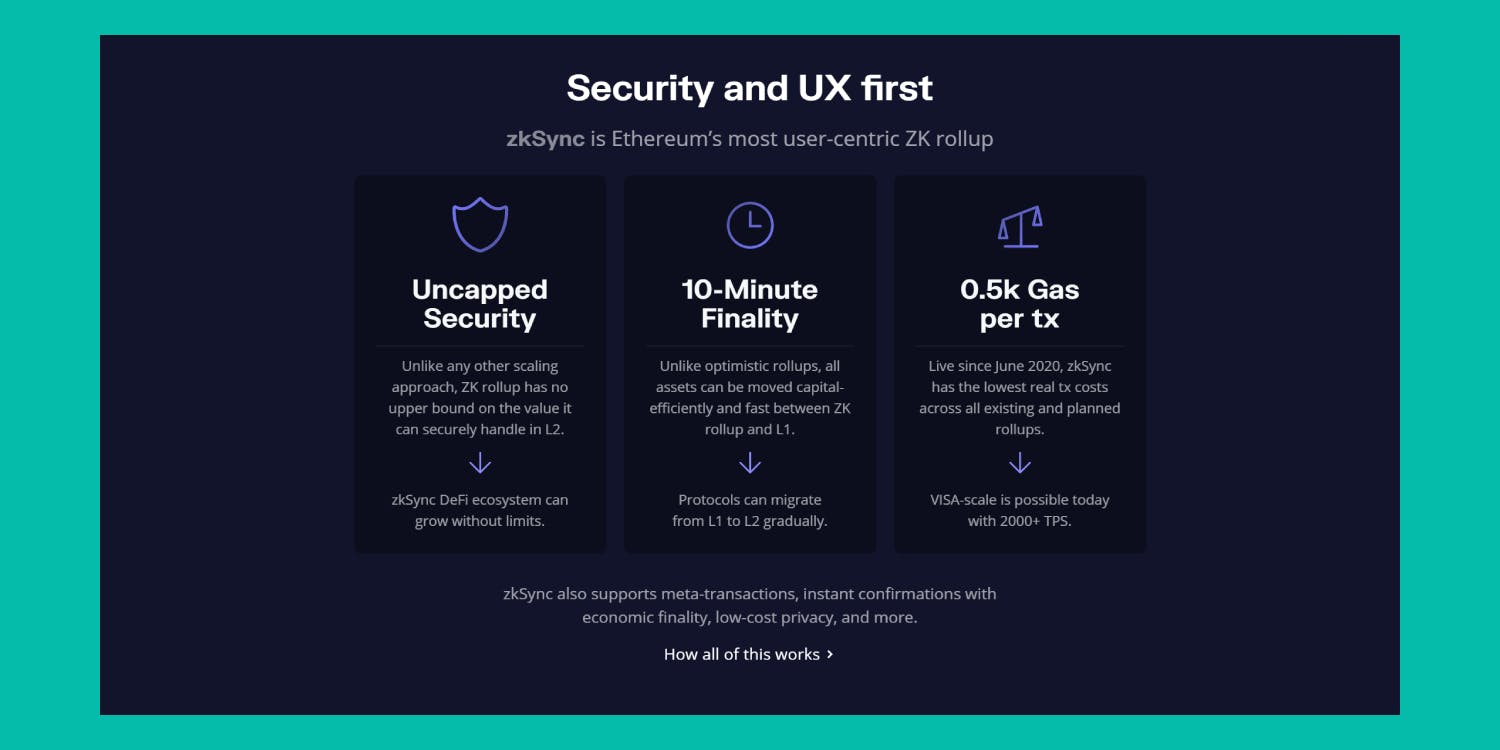 Credit: zkSync
How does zkSync work?
zkSync is part of a group of Layer 2 solutions called rollups. More specifically, zkSync is a ZK rollup. (The ZK stands for zero knowledge, which is a cryptographic term for one party being able to prove to another that something is true, without revealing any other information.)
What's a rollup?
Rollups work by bundling or 'rolling up' off-chain transactions into a smaller transaction that gets sent to Layer 1. By sending the transactions back to Layer 1, rollups inherit the security and finality of the Ethereum blockchain.
There are two types of rollup: Zero knowledge (ZK) and Optimistic. We'll only cover ZK rollups here.
What's a ZK rollup?
Each batch of transactions is sent to an off-chain prover that generates a cryptographic proof (called a SNARK, in the case of zkSync) that the transactions are valid. While generating the proof is hard, verifying that the proof is valid is easy. This ease means that it can be sent to Layer 1 and verified in a smart contract. This allows for near-frictionless transfers between Layer 1 and Layer 2.
zkSync and Dapps
While Dapps will be able to build on zkSync the platform isn't ready yet. It will also be EVM compatible, meaning you'll be able to take existing Layer 1 smart contracts and easily transfer them to Layer 2.
Who's behind zkSync?
ZkSync has been developed by Matter Labs. They've received funding from both the Ethereum Foundation and top tier investors, such as Union Square Ventures. zkSync has been live since September 2020.
Argent and Layer 2
We'll slowly begin to roll out our Layer 2 wallet from October. We chose zkSync over alternatives as it's the most affordable rollup solution with high transaction speeds and near-frictionless transfers between Layer 1 and Layer 2. 
Join here for early access and entry to the $285K crypto sweepstakes.
Further resources
Ready to get started with DeFi?
Argent is a simple, secure, all in one wallet for investing in DeFi and NFTs
Download Argent