Convenience or control. That's always been the tradeoff with crypto wallets.
Custodial ones give you convenience due to their UX, but they mean leaving your crypto with a third party (with dire risks). Non-custodial ones give you control, but they've been a major hassle with seed phrases, cryptic addresses and gas.
But — after a decade's wait — that tradeoff is no more.
In this post we argue that a new generation of non-custodial wallets has arrived. They make holding and sending tokens easy. And, much more importantly for the ecosystem, they do the same for using Dapps.
When you combine this with the emergence of standout Dapps such as Maker, Dharma, Veil and Uniswap, it's clear that we're at the dawn of something special in crypto.
We start this post with our highlights from others in the wallet community. We then cover Argent and using our wallet to access Dapps. We finish with our plans for natively integrating DeFi Dapps.
The Argent wallet is live on iOS (and will be on Android from April). We'd love to know what you think of it. Last, if you have a Dapp and want easier onboarding, please get in touch: dapps@argent.xyz.
---
PART ONE: WALLETS
The usability Avengers
These are our highlights from the community's awesome work on non-custodial wallets in recent months.
The range of these projects shows how quickly the pieces of the usability puzzle are coming together. Our contribution to the puzzle is as follows.
---
Argent: A new type of wallet
When we founded Argent we asked: can a non-custodial wallet ever have the ease of use and security of the best new bank apps — without the bank?
Could you transact like Venmo? Could recovering access to your account be as simple as calling your bank and asking for a new card? Could you have the peace of mind of knowing fraudulent transactions would be blocked?
It turns out this is possible, with a wallet built on smart contracts.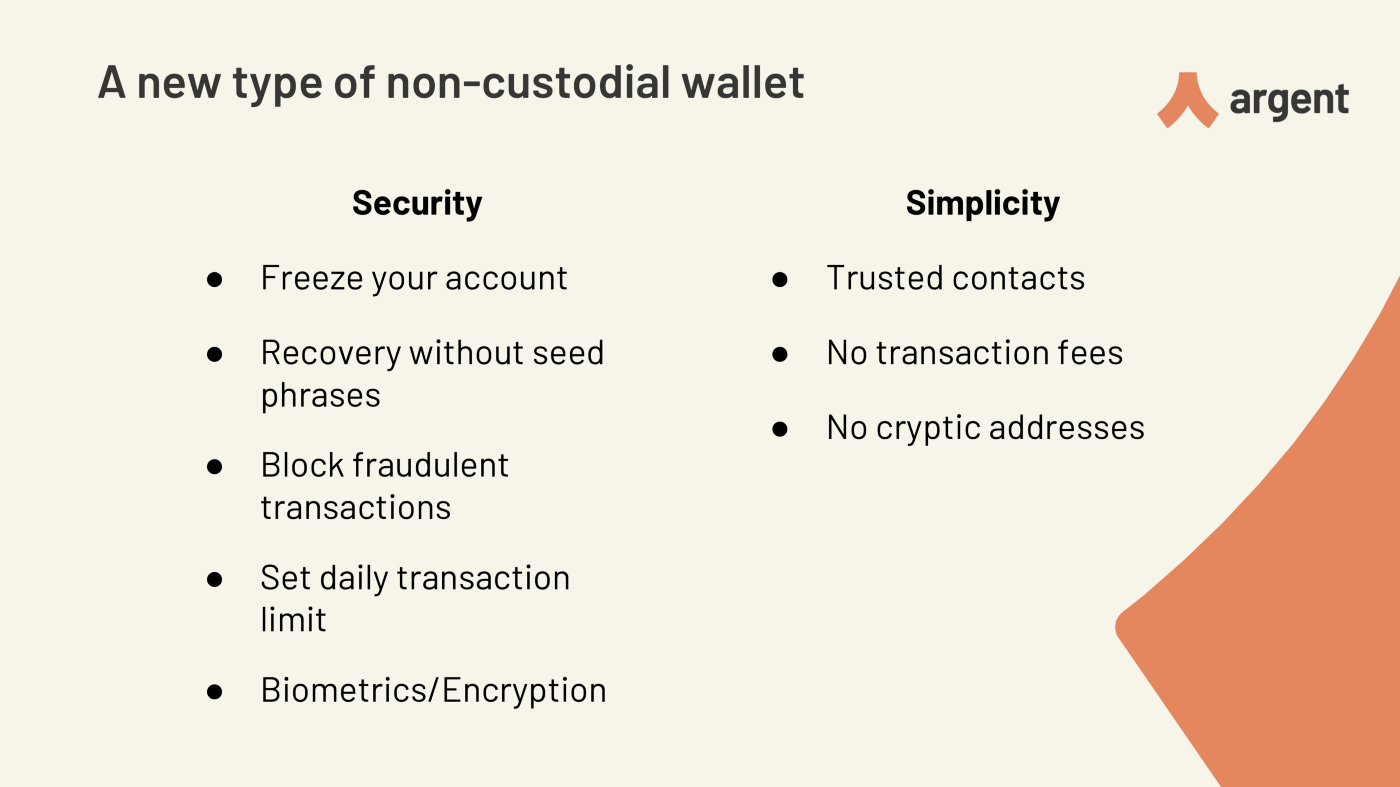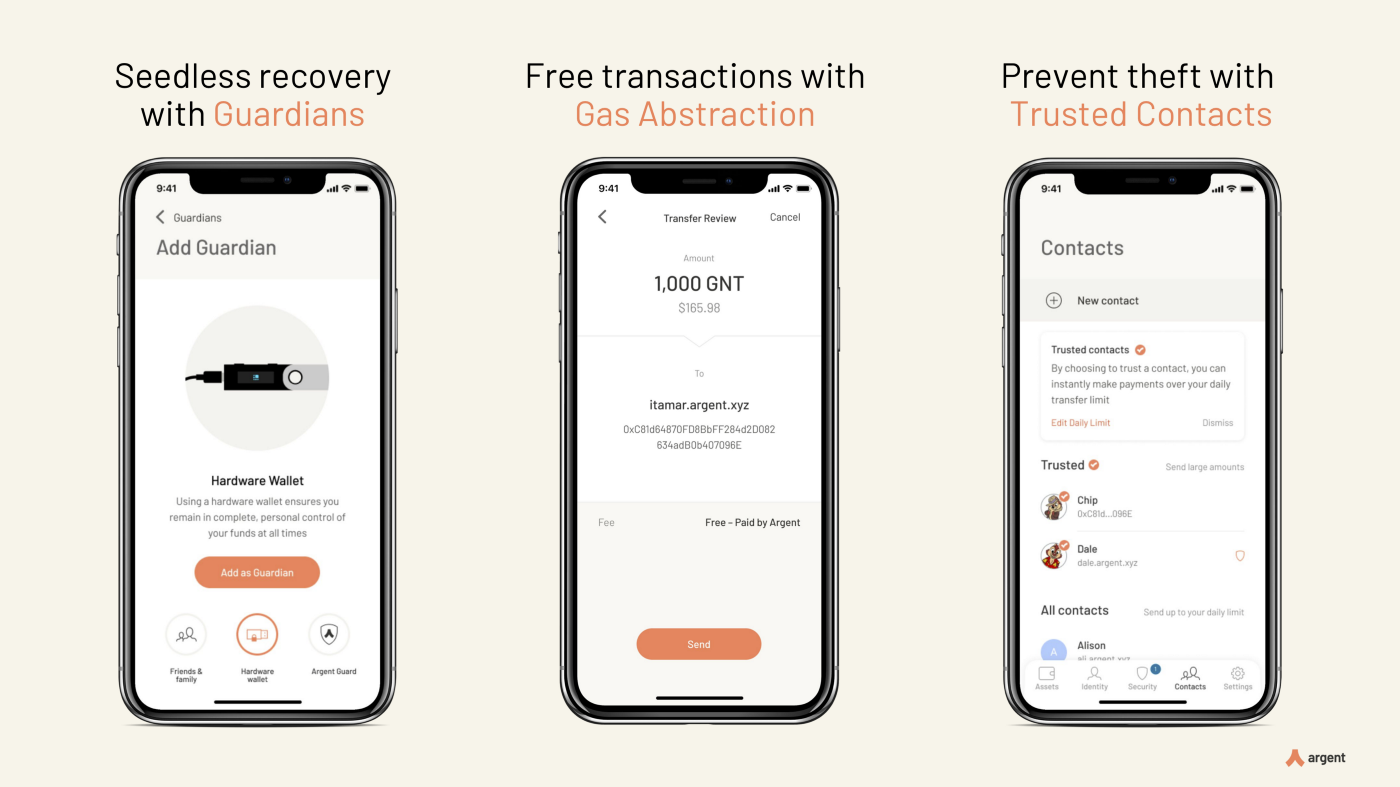 Seedless recovery
Our first step was removing the biggest wallet pain point: seed phrases. We didn't think the future of the web was writing a series of words on a piece of paper.
We wrote more on how this works here but, in short, your phone holds a private key, a smart contract holds your funds. If you lose your phone you can use people or devices you trust (we call them Guardians) to designate a new phone as the owner of your funds. Guardians never have access to your private key; they cannot, ever, access your funds.
Bank-like security
Secondly, we used smart contracts to provide additional bank-like security features, such as daily limits and approving large transfers.
Here's Itamar at EthLondon showing how his daily limit kicks in if he tries to send all his crypto to a member of the audience he's never met.
Non-custodial wallets can never offer bank-like security. Wrong.

Here's @itamarl at #ETHLDN showing how Argent's smart contracts let you limit transfers to untrusted contacts. No more nightmares of your wallet being drained. (Sound on 👇) pic.twitter.com/AkRtmrwsb2

— Argent (@argentHQ) March 13, 2019
For more on how our overall security model works, see this post.
Venmo-style transactions
To make this possible we did two things:
Partnering with the Ethereum Name Service so every user gets to pick their free Argent name, e.g. natasha.argent.xyz. This removes the complexity of 0x addresses.
Use meta-transactions, so you don't deal with gas when you send.
Beneath the hood
Our smart contract architecture is as follows: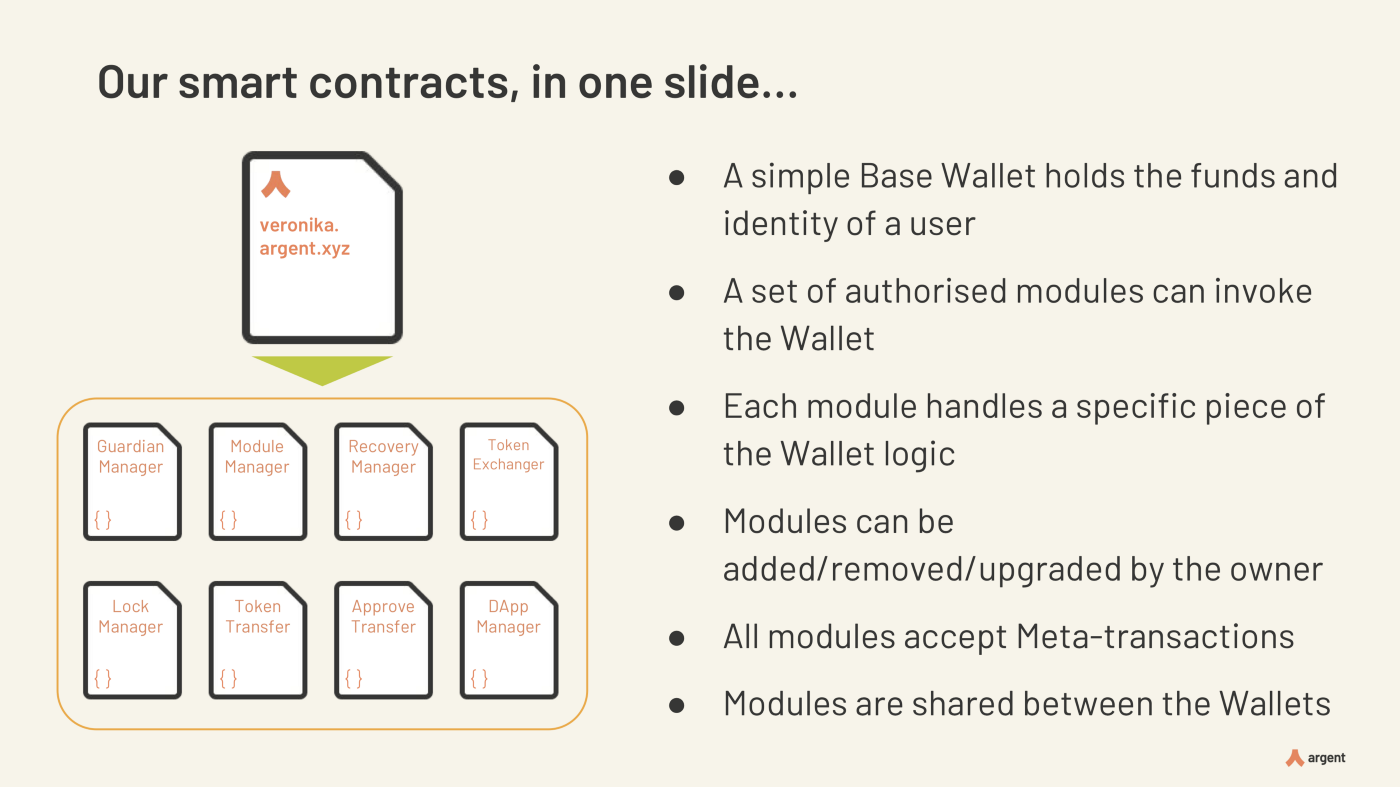 A few things to note:
The modular structure means the wallet can be upgraded by the wallet owner. To upgrade features, you can just add or remove modules.
Sharing the modules between the wallets minimises the gas costs of creating new wallets.
The simplicity of the Base Wallet makes it easier to audit.
---
This architecture puts the user in control, yet also provides a safety net. It's a significant change in how you can hold and send tokens. And it's equally significant for how it helps you access Dapps.
---
PART TWO: USING DAPPS
Argent as the gateway to Dapps
At EthCC in March, Taylor Monahan of MyCrypto captured how painful the Dapp user journey is. Here are just some of the steps:
Very few people are willing to persevere with such an experience, as Dapp user numbers prove.
We've wanted to fix this since Day 1. To guide our solution, we asked what our dream Dapp experience would be: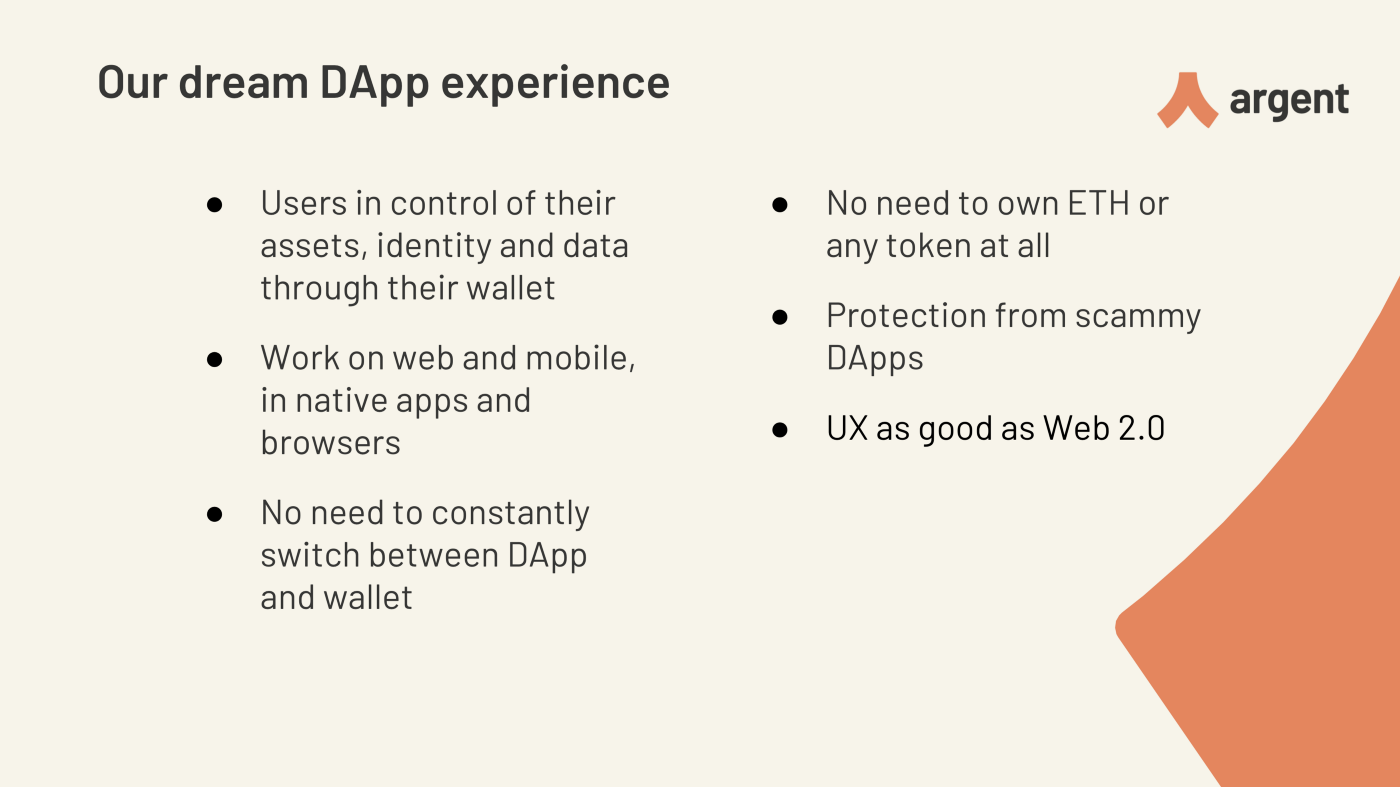 What's next? DeFi & native Dapp integrations
We're super excited by what's going on in DeFi and have started to get in touch with teams we particularly admire.
For those Dapps we believe will be essential to our users, we'll natively integrate them to our mobile wallet.
This provides a seamless experience. We've already done this with Kyber, a decentralised exchange.
[Update: To see our latest DeFi integrations, check out our posts on Compound and Maker]
If you'd like to explore a native integration, please get in touch: dapps@argent.xyz.
We're always on the lookout for feedback so please let us know your thoughts. You can find us on Twitter: @argentHQ.