You can now seamlessly access OpenSea, the world's biggest NFT marketplace, from your Argent Vault, our Layer 1 wallet. This is a result of OpenSea adding support for smart contract wallets. It's a big step for NFT security, as Argent is the only wallet with multisig security and no seed phrase. WAGMI.
Argent x OpenSea
What's changed? Argent Vault users now have full access to OpenSea's NFT marketplace. Buy, sell and list. Easily and securely.
This follows a year of astonishing growth from OpenSea, with sales volume increasing 600X, reaching $5bn last month.
OpenSea gives you access to the vast majority of the most popular NFTs, from Punks to Apes, Fidenzas to Toadz. We're super excited our community now has full access.
Existing users of OpenSea can check out this article to learn more about OpenSea's upgrade.
The importance of NFT security
The main benefit of OpenSea's change is that people no longer need to move assets to less secure wallets in order to use the platform. This matters because the flip side to the growth in NFTs last year was the rise in hacks.
There are near daily stories of people losing everything with one small mistake. They wake up, check their wallet and find everything gone. A common reason for this is that people get tricked into sharing their seed phrase (which gives someone total control of the assets). And it's not just crypto beginners that fall victim to this. We've seen many cases where people who knew about the risks still slipped up. It's easy to do as Discord is flooded by scammers, and simply typing MetaMask into Twitter unleashes a tidal wave of fake customer support accounts.
Argent solves this. We have no seed phrases, making your wallet immune to these types of phishing attacks.
Argent's security instead uses guardians. These are trusted friends or devices that help you to recover your wallet, approve transfers to new addresses, or lock your account. As Vitalik Buterin says, this approach to security is vital for crypto's mass adoption. As he explains, it offers stronger security than using a hardware wallet alone as there's no single point of failure.
We're celebrating with a giveaway!
We've got 25 exclusive presale spots for an exciting new NFT launch - Dour Darcels.
This lets you avoid the gas wars that come with popular NFT drops.
For a chance to win a pre-sale spot, sign up with the steps below.
Be quick though, the deadline to enter is Sunday, 27th February at 16:00 UTC.
Two points to note:
It's not a free NFT - the winners will still need to pay the minting cost: 0.1 ETH.
You'll need to pay the gas for the transaction.
Argent does not have a commercial arrangement with Dour Darcels and we do not profit from either the minting cost or gas. We are simply excited to help our community access a new NFT launch.
Read on to learn about Dour Darcels, and how to take part.
What are Dour Darcels?
Dour Darcels are a collection of 10,000 randomly generated NFT characters in Darcel Disappoints' distinctive style. 
There are over 200 colorful traits and fashionable variations, meaning each Darcel is as unique as the next. Holding a Darcel will give owners access to benefits like special members-only events, merchandise, artwork, and exclusive artist collaborations.
Here's what an Argent inspired Darcel looks like: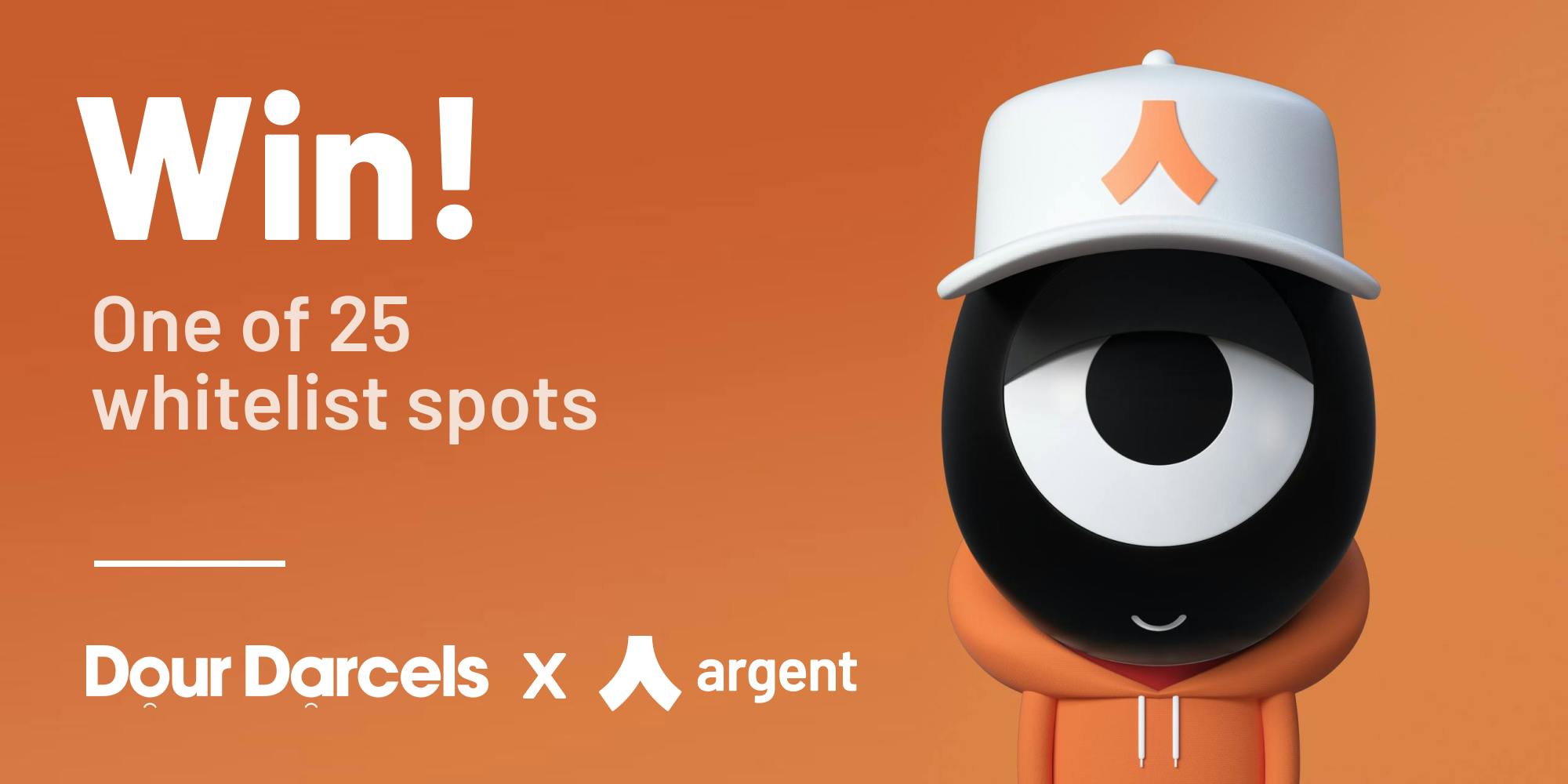 Timings
Deadline for signing up: Sunday, 27th February at 16:00 UTC
Winners notified: Monday, 28th February at 16:00 UTC
Pre-sale access for minting: Friday, 4th March at 17:00 UTC
How to enter?
Like & retweet this tweet
Follow @argentHQ & @DourDarcelsNFT on Twitter
Submit your Argent username to our Typeform. We won't ask for your personal information
Winners will be contacted via the email address linked to their Argent wallet. We won't share addresses on social media for privacy reasons.
Curious about web3? Dive into its future
Check out our new, Layer 2 account for the safest way to use zkSync. You can trade, stake, earn and gift crypto at up to 100X cheaper fees than Ethereum at near-instant speeds. All while having your transaction activity hidden from prying eyes.
Take control with Argent
A simple, all-in-one crypto wallet with bulletproof security. Buy, stake, earn and trade with low fees. Join our global community.
Download Argent