gm everyone -  welcome to our newsletter where we give you an update on Ethereum and the broader crypto ecosystem. 
TLDR: 
The Ronin bridge was hacked for $600m, becoming the largest DeFi exploit. But no one noticed for 6 days! 
More on The Merge and how it'll transform Ethereum 
Aave v3 launched, L2 DeFi is heating up & DPI, which represents 'blue chip' DeFi tokens, is outperforming ETH
Now let's get into it all & more! 🚀 
🚨 Hacks, Exploits & what you can do to avoid them
The largest DeFi hack happened earlier this week, with $600m stolen from the Ronin Bridge. Arguably, even more shocking, is that no one noticed for 6 days! The hack emphasizes the need to choose secure scaling solutions.
That was one of many exploits over the past 2 weeks. Cashio, a decentralized stablecoin, was hacked for over $52m. And an experienced crypto user lost nearly $1m in NFTs after a social engineering attack. 
Another big NFT hack. This time for nearly $1m. And on a highly experienced user.

So how can you stay safe and protect your valuable NFTs?

Let's break it down 🧵

— Argent (@argentHQ) March 22, 2022
🌳 What you need to know about the Merge
In Issue #10, we covered the first big testnet successfully merging to Proof of Stake. It was a huge achievement and has gotten everyone talking about The Merge, but what is it? Let's explain. 
Currently, Ethereum uses Proof of Work, just like Bitcoin. It's slow and as you're probably aware, expensive. It also consumes lots of energy. 
That's why Ethereum is upgrading to ETH 2.0 to fix these issues. 
The Merge is only one part of the upgrade. It will see Ethereum shift from Proof of Work to Proof of Stake. That means Ethereum will use less than 99.5% electricity, and securing the network becomes more accessible as the equipment to run validators is less specialized. And if you don't have the 32 ETH requirement to run a validator, you can use liquid staking options like Lido. 
The Merge won't make Ethereum cheaper to use. Rollups will. And rollups will become even more affordable with Data Sharding and Ethereum improvements like EIP-4488. 
The change from Proof of Work to Proof of Stake comes with tradeoffs, and you can learn about them in this debate Bankless hosted:
📈 Is DeFi undergoing a renaissance? 
NFTs have dominated crypto over the past year. While DeFi got battered, NFTs soared. During that time, leading DeFi teams like Aave, Bancor and Maker have been building, and we're seeing that come to fruition. In other words, the devs did something. 
Aave launched v3, which is more capital efficient & improves risk management; Bancor also launched v3, which reduces the cost of trading & has better impermanent loss protection, And Maker is exploring new tokenomics and figuring out how to work better with traditional finance. 
It doesn't end there. DeFi on L2 is growing with the rise of exchanges like ZigZag, lowering the barrier of entry with cheap trading. Hint hint - the ZigZag team wrote a blog post on exchange coins they like. I wonder what they're hinting? 
DeFi has always been exciting for us. But are we now seeing it undergoing a renaissance - we'll have to wait and see…
📚 What we're reading 
Started From The Bottom - from nobody to unicorn in 3 years by Dune Analytics. This is how the first-time founders of Dune Analytics started the business without a wage and struggled to raise $69,420,000 in their Series B. 
The Cryptopians by crypto-journalist Laura Shin. Laura captures how Ethereum started by focusing on the key people involved, including the disagreements. It's a great read and gives you a great insight into the Ethereum early days. 
The roads not taken, the latest Vitalik Buterin blog post. Our final reading links nicely to The Cryptopians, as this blog covers some of the decisions not taken by the Ethereum team in the early days.
💭 What's happening at Argent
We've had a busy 2 weeks. We've started threading on Twitter, mainly on NFT security, but we have more planned soon on topics like zk-rollups. 
Our Head of Operations has been on the PoolTogether community podcast & a Twitter Space with Index Coop & zkSync discussing how zkSync unlocks mainstream crypto adoption. And our Head of Product has been on Wallet Wednesday, a Twitter space hosted by Zerion. 
Julien, one of our co-founders, wrote a piece on Account Abstraction and why we believe it is a game-changer for self-custody. It allows you to build better wallets than traditional ones (EOAs). And both zkSync & StarkNet are launching with it! We highly recommend you give it a read.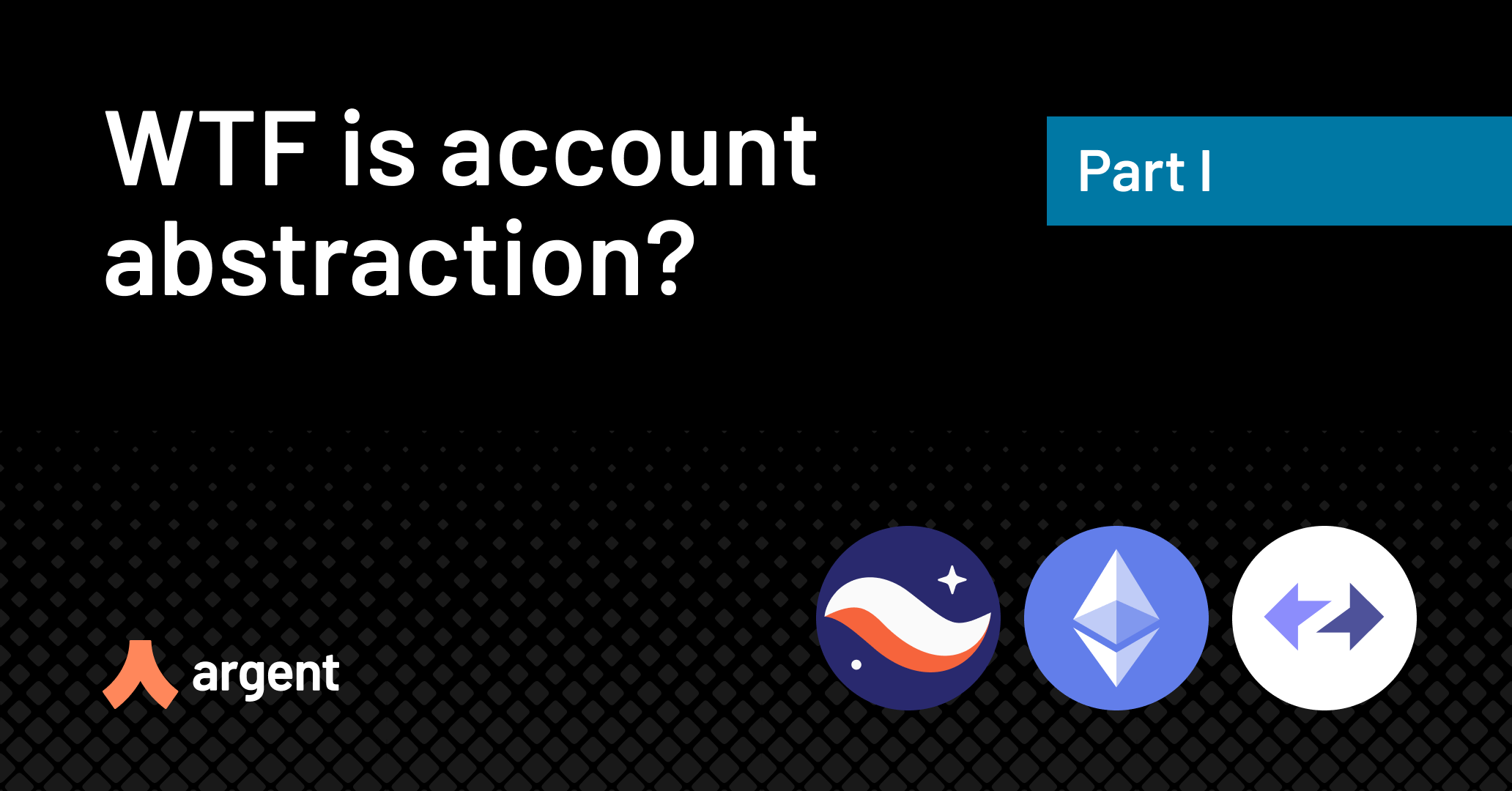 Click here to read the WTF is account abstraction
Argent X broke another milestone with 60k downloads. And finally, the Argent mobile app will get an update next week that includes the highly anticipated P&L tracker and some exciting new features!
Share your ideas & questions
Thank you for reading Issue #11. We'd love to get your feedback, ideas, and insights at edward@argent.xyz
About the Argent Newsletter 
The Argent newsletter is our answer to a question we're frequently asked by friends and family: what articles, podcasts, and news do you recommend?  
Take control with Argent
A simple, all-in-one crypto wallet with bulletproof security. Buy, stake, earn and trade with low fees. Join our global community.
Download Argent