Decisions, decisions
A while ago I made the decision to accumulate enough ETH to stake when the Ethereum Proof of Stake Beacon chain launched. I look after design at Argent and I am inexperienced with maintaining the systems needed for a blockchain validator.
Stressful and involved though it was, I was determined to contribute to the Eth2 effort. I believe it's important and could also be financially rewarding.
With my ETH ready, there were a lot of other decisions to make. This post goes through my decision process. I've tried to structure it in a way that is quick to read (skim the headings), with added detail should you wish to go deeper.
Let me know @graemeblackwood if you find it useful or have any questions (or challenges to some of my decisions – I may have made incorrect assumptions in places). Bear in mind that my decisions were made after a lot of research, and I am well aware of the risks involved in running an Ethereum Proof of Stake validator. Please do your own research on these risks.
---
Full validator or stake through a service?
My first decision – do this myself, or use a service like RocketPool or Stkr?
My thinking
RocketPool and Stkr are fantastic services for people without the full 32 ETH required to stake and run their own node.
No inactivity/slashing risk is great too.
In my opinion, they are preferable to staking through a centralized exchange like Kraken.
And they are not as "ideal" as independently-run nodes, as they act as a middleman of sorts.
I am committed to decentralization, so I felt it important to run my own node.
Decision: Run a full validator
---
Node-at-home or Node-in-the-Cloud?
Decision 2 – use a cloud-based service like Digital Ocean, or go it alone?
My thinking
Cloud-based would mean a lot of my concerns around up-time, remote access, and monitoring would be easier to set up and manage.
But again, Cloud-based tends toward a type of centralization. If every eth2 node is running in AWS, is that censorship-resistant?
Decision: Node-at-home
---
Hardware: Laptop? Mini-PC?
I'd read that the recommended specs are 8GB RAM, 100GB SSD (spare storage), and an i7 CPU. And I had read elsewhere that a 1TB SSD is wiser, and 32GB RAM, if you want to have a future-proof setup, and run a full ETH node too.
I had a spare, powerful Windows laptop at home which would handle that. Should I use it?
My thinking
A laptop is great because it is compact and has a built-in screen.
They consume more power than a NUC though (important consideration for uptime on a UPS battery backup)
Also, I use the laptop for other high-performance things (e.g. 3d / CAD)
And the built-in SSD is only 1 TB, and is already heavily used.
Decision: Buy a new mini-PC
---
Choosing a mini-PC
NUCs aren't the nicest looking things. And I wanted my node to look nice. My first thought was a new Mac mini, but then I began hearing that the M1 chip could cause problems with dual-booting, and I realized it's probably wiser to have a dedicated, single-boot machine for this.
My thinking
The validator node is going to sit somewhere quite visible, so it needs to look nice.
It needs to be quiet.
It needs to be compact.
It needs to be future-proof.
Decision: An aluminum mini ITX
After a lot of searching, I found a great-looking Mac-mini esque PC at inside-tech.co.uk. I decided to up the spec to a 2TB SSD, 32GB RAM and a 9th-gen i7. Here it is again: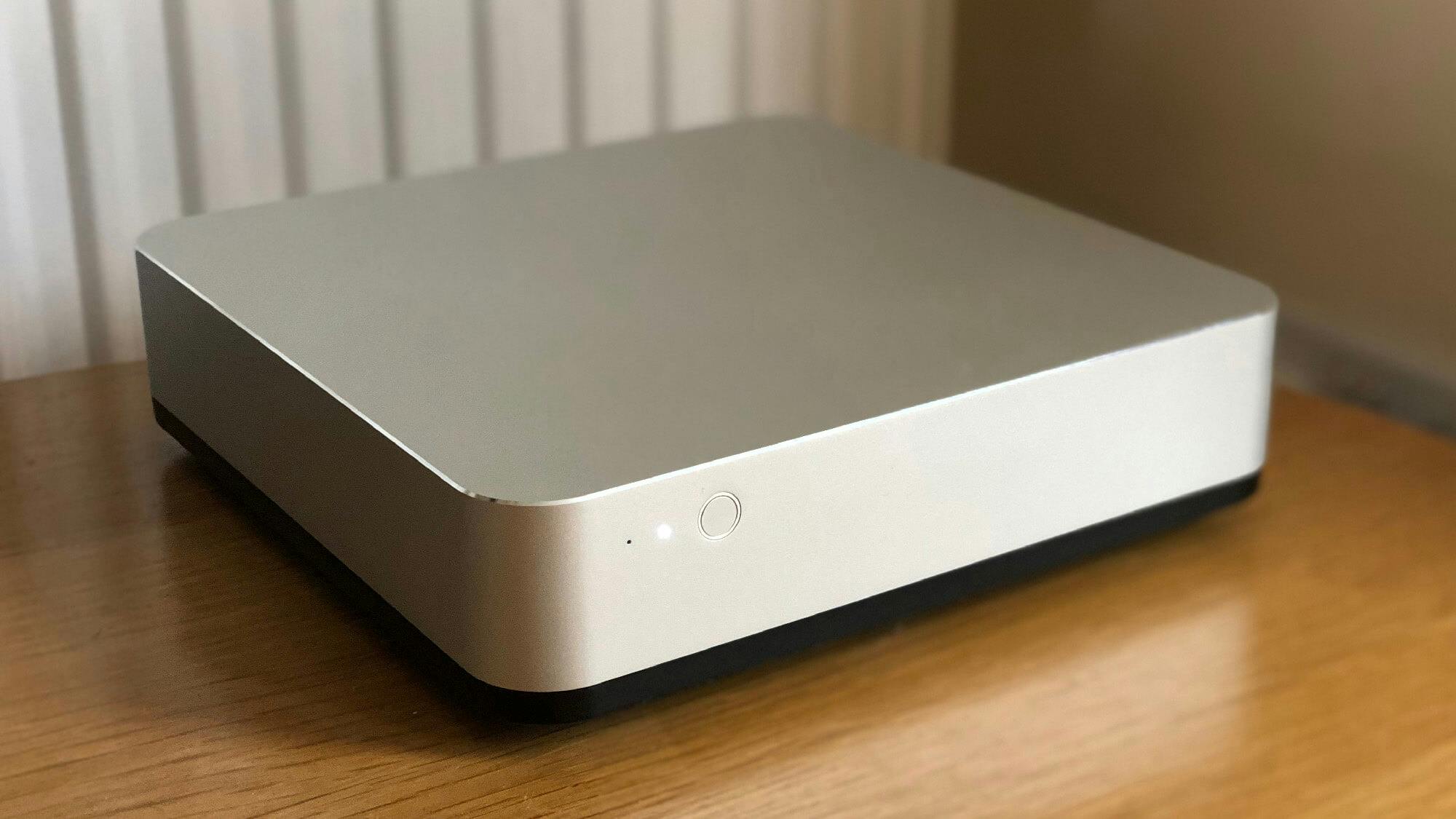 It's a bit bigger than a NUC, but not by much. Now that it is running, it's quiet, but not silent. Something to bear in mind… I looked for a fanless PC but couldn't find one that I liked the look of, at this spec.
---
Oh… I forgot about the screen!
Seems obvious, but as someone who has used a laptop daily since 2003, forgive me for forgetting that I need a screen! Also a wired keyboard and mouse… 😬
My thinking
Once it dawned on me, I realized I didn't want to buy a new screen and have it take up space.
I wanted a way to access it remotely, i.e. a "headless" box.
But I needed to set that up somehow…
Decision: TV, temporarily, then AnyDesk + an HDMI dummy plug
I dragged my TV over and plugged it in using the HDMI cable. I then installed AnyDesk, ensuring I set an alias. Otherwise, the ID changes every time the PC restarts and you'll need that TV again! 😅
Once I was confident it all worked, I put the TV back. Then I tried to access with AnyDesk again and it failed! After further research, I realized that the video card needs to be told what resolution to output. I could either have used Linux start scripts to force it or an HDMI dummy plug. I chose the plug. You can get them for a few £ / $ / € on Amazon.
Since then it has worked quite well. The only issue is sometimes when I am typing remotely from my Mac, it double-types on the node. I have no idea how to fix this.
---
UPS to reduce inactivity penalties due to unexpected downtime
Running from home means a risk of power cuts, lightning strikes, or internet outages. I decided to get a UPS (uninterruptible power supply). Even more research!
Decision: APC BX1400UI
After a ton of searching and reading, I settled on an APC. Their website lets you choose how long you want to run for in an outage, based on the load you place on the battery. I also chose an APC because they have better support in the UK than CyberPower. The APC BX1400UI should give me around 50 minutes of up time in a power outage.
---
Which operating system?
MacOS, Windows or Linux? DappNode or work it out myself?
My thinking
I'm not sure I want to run MacOS without Apple hardware.
I have been using a Mac so long that Windows scares me.
I have never used Linux before, but it seemed best suited to the task.
The company building the PC offered Ubuntu 20.04 free.
Decision: Ubuntu 20.04*
Ubuntu + Gnome came with the PC, and I was impressed! Having never used Linux before, here was a familiar UI. But did I really want to set up the rest of my Ethereum node myself? Or would DappNode make it easier for me?
*I decided to try DappNode first. After downloading the ISO file and finding a USB stick lying around, I attempted to burn to it. I tried repeatedly with Etcher and it threw errors no matter what I did. Eventually I had to format the USB with a specific filesystem (I can't remember which – sorry!) and give Etcher full disk access (MacOS settings > Security & Privacy > Privacy > Full Disk Access) AND run Etcher as root. 😩
Then I rebooted the node, entered the BIOS and told it to boot from the USB (I also set up AC Power Recovery whilst I was at it).
I went through the DappNode guide until I got to step 11 – Partition disk - Select disk to partition: [SCSIX (0,0,0) (sda) - ...]
Now call me stupid, but the only disk labeled SCSIX (0,0,0) (sda) was the USB! As weird as I thought it to partition the USB, that's what the guide said, and that's what I did. Surprise surprise it b0rked it. Then I had to go back through the Etcher process all over again (and yes I had forgotten what filesystem I had used).
By the time I had finished preparing the USB again, I realized I didn't want to risk trashing a working Ubuntu + Gnome setup with an unknown DappNode setup. So I decided to stop and try using Ubuntu.
---
Infura or local full Ethereum 1 node?
Given my commitment to decentralization, you can guess my decision…
My thinking
Infura is an amazing service. And… an oft-touted single point of failure for Ethereum.
I want to contribute to resilience too. I had already decided I want a local node before I chose the size of SSD.
Then the question was which ETH 1 client? Geth, Nethermind, Parity, Besu? How should I know?! 😩
Decision: Local full Ethereum 1 node using Geth
With a bit of research and some help from my Argent colleagues, I chose to run Geth. It turned out to be easier than I thought. I did accidentally trigger a full sync by stopping and restarting the process partway through (a full sync can take weeks to complete). So I stopped it again, deleted everything, and restarted with a fast sync.
One thing I found confusing is that the Geth setup guide assumes you want to sign ETH 1 transactions. I started messing about with Clef before realizing that was unnecessary. geth console and geth attach are the only commands you need!
---
Eth2 client: Lighthouse, Prysm, Nimbus or Teku?
More reading…
My thinking
Lighthouse sounded solid, but the documentation put me off. Even though I understood what "pre-built binaries" meant, it felt intimidating.
Likewise Teku – the link on the eth2 launchpad sent me straight to "Build from source" on the Teku docs. No thanks…
Nimbus is designed for low-spec devices
Prysm's documentation was great and easy to follow. They also had a web UI for monitoring my node. Maybe the others do too, but I didn't get that far.
Decision: Prysm + Prysm Web UI
For something like this, documentation is so, so important. It is the UX of a command-line based product, and adoption depends on it.
---
Last few steps
After all that, I was at last ready to generate my validator keys and submit my deposit. Nerve-wracking when 32 ETH is a good chunk of my liquid net-worth. Unfortunately I haven't been in this game as long as some, who seem to have enormous bags of crypto. This was a big deal for me.
I completed the remaining steps following the instructions on the eth2 Launchpad, and now I await activation!
---
Still to do…
Set up alerting, e.g. PagerDuty
Set up automated backups, preferably image-based so I can get the node back up and running rapidly if the SSD fails.
Or at least backup my Geth node to save me 24 hours+ of downtime whilst it resyncs.
Maybe also write a shell script to automate rebuilding my environment as a fallback.
And maybe set a cron job to check if AnyDesk has frozen or crashed, and auto-kill / restart it.
I'll need help with these, though…
---
Closing thoughts
Getting my home-based eth2 validator up and running was involved and tiring. I understand the temptation to just use a cloud-based service. The move to Proof of Stake is designed to enable true decentralisation, though, and I was determined to follow the spirit of that effort.
The majority of the work was finding and choosing the hardware (PC and UPS). Had I been an engineer, and/or run local blockchain nodes before, the rest would have been trivial. Having some experience of using a command-line interface was a real benefit to me though.
I hope I've proven that it is possible to run Ethereum 2 at home, and it is possible even for a designer!
I'd love to hear about your experience/decisions about running (or not) eth2.
Take control with Argent
A simple, all-in-one crypto wallet with bulletproof security. Buy, stake, earn and trade with low fees. Join our global community.
Download Argent