This post is unlike anything we've had on our blog before. It's the story of how one Argent wallet owner's life, and his family's life too, were changed by Ethereum. More specifically, by the Uniswap and PoolTogether airdrops. They allowed him to build a new house for his family and pay off his Mother's creditors.
You may remember hearing about it in May, when we tweeted the below.
An Argent user in Argentina used his @Uniswap and @PoolTogether_ airdrops to repair his house 🙌

He only used a little DAI as we covered the gas.

While we can't cover all gas anymore. Ethereum is scaling. Gas won't be a barrier.

There will be more stories like this 🚀 https://t.co/EnO4Bk80uJ

— Argent (@argentHQ) May 27, 2021
After we tweeted this we were thrilled that the Argent wallet owner in question - Leonel - got in touch. He kindly gave us this interview about how his life changed, and what he thinks of crypto's potential in Latin America. We hope you enjoy it.
1. Hey Leonel, tell us a little about yourself?
I'm 26 and come from a poor family in the north of Argentina. I started working at the age of 18 because my parents got divorced and my father left us. My mother always said to me that my main priority should be studying. But this was a struggle as our incomes were not enough to cover the bills and basic food. After trying to juggle work and study - with no success - it was clear to me that my priority was to help my mother in everything I could. 
My mother cleans houses, and my father is a lorry driver. Neither finished high school, and I'm the first person in the family to have a high school degree. Now I'm studying to be an English teacher at a public university, which is exciting.
2. What got you into crypto and Ethereum?
When you live in a country like Argentina, which has constant inflation, you tend to look for any way to survive. It's crazy! If you ever ask an Argentinian about the dollar price, they'll tell you the official price with taxes included. But you can't access this rate as the government makes buying dollars very difficult for us. For example, if you're an informal worker, like most workers in Argentina, you're unable to buy dollars. And if you can buy dollars, there's a maximum limit of $200 per month, which is not enough. If you think that's bad? It gets worse. When you buy dollars, you have to pay 65% in taxes - it's insane! 
This forces us to use the black markets, like Dollar Blue which works as a P2P exchange. It's not regulated by the government and the exchange rate for dollars is much higher. But people pay it, as we want to avoid the peso as much as possible.
So, to get back to the original question of what got me into crypto. I would say that it was this situation in Argentina that got me interested. I didn't want the small amount of money I had saved in pesos to be devalued, and as an informal worker, I couldn't access dollars. So, I needed an alternative. 
I found the solution when I was scrolling through social media and saw an advertisement for a local exchange. They were promoting a digital asset called DAI, and it caught my attention. At the time, I had no idea what DAI was and I had no experience in blockchain or cryptocurrency. But after seeing that advert, I spent some time researching more about DAI in Telegram chats and other communities. I loved what I found out - I could access dollars!
I then learned the basics of cryptocurrency. I started with wallets, like Argent, then about gas fees, and the more I read, the more I loved this disruptive technology: DeFi. I was delighted that anyone could access the financial world no matter their social status or where they come from. It was all waiting there for me. 
3. How did you feel when you found out about the UNI and PoolTogether airdrop? What happened next?
When I found out about the PoolTogether airdrop - I couldn't believe it! I had previously been eligible for the UNI airdrop, which was a turning point in my life. To qualify for another large airdrop was amazing - It's very hard to explain how I felt at the time. 
Consider my situation. I used to work more than 8 hours a day, and at the end of each month, I used to earn the equivalent of $80. For making an exchange on Uniswap, I received more than a year's salary. I couldn't believe my eyes when I saw those tokens on my screen. I kept refreshing my screen, again and again - it couldn't be true! I felt so many emotions. Happiness, excitement, joy - it was remarkable that I got this.
I also felt hope. I envisioned a brighter future, not just for me but for my family. So I used that airdrop to build part of my house. I often say that crypto gave my family dignity.
Before the UNI airdrop, my family lived in a precarious house - some parts had dirt floors, we had basic electrical connections, bricks with no thick plaster, and I didn't even have a window in my bedroom, only the outside walls. In the winter, we were used to putting bricks on the outer walls and cut cardboard boxes to cover the windows, otherwise we'd freeze. This isn't as significant, but we didn't even have an internet connection or a computer at home. So for me to study or take my exams, I had to do everything from my cell phone. That was the impact of the UNI airdrop.
The PoolTogether airdrop also had a massive impact on our lives. My mother had unpaid mortgage debt that was building up. But she never mentioned anything about it to us. Perhaps she felt ashamed and didn't know what to do. I think she didn't want me to be worried about it. Even now, I don't know why she kept it a secret.
Coming back to what had happened. In April this year, we were notified our house would get sold to pay the debt unless we could make an arrangement with the creditors. The following days had certainly been stressful. We hired a lawyer, and after a month, we came to an arrangement. So, I used the airdrop to pay the debt and the lawyer fees. PoolTogether saved us from living in the streets. 
Nowadays, I am unemployed, but I'm using the remaining money for NFT games. So, crypto still gives me a monthly income to keep helping at home.
I would have loved to keep investing in other protocols, but there was not much money left from the airdrops. And that is okay. Some of my friends told me that I should have held the airdrop or that I should have used it for other investments, but I have no regrets. The biggest priority in my life is my family, and I am really happy that I could change at least a bit of their lives for the better. I believe that more exciting experiences are coming. In the meantime, I keep myself active with my teaching practice, studying for university, reading updates in the crypto communities, and starting an introductory programming course.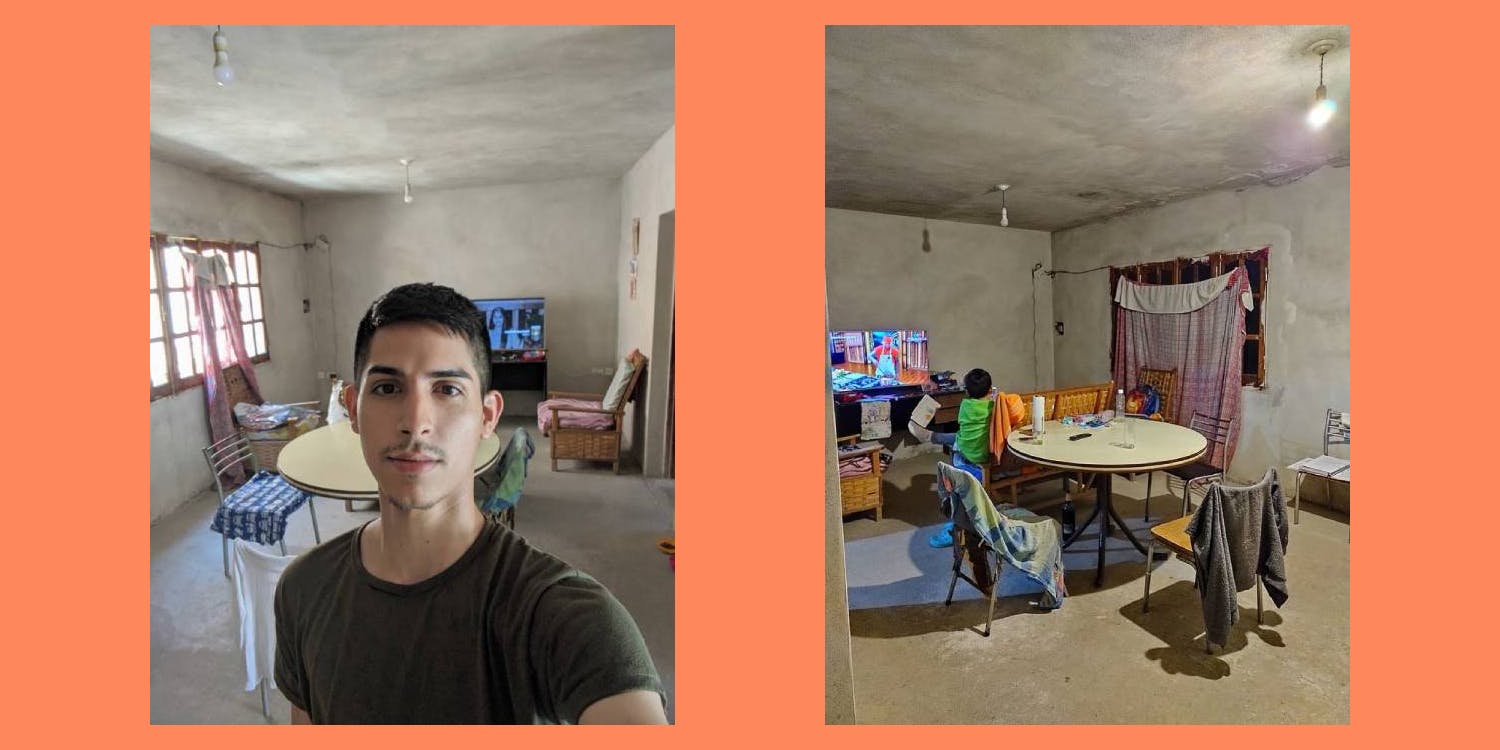 Leonel in his new home (Pic by Leonel)
4. What are you most excited about with crypto in the future? What do you think of its potential in Latin America?
I am convinced that crypto and blockchain are going to play a key role in our everyday lives. History has shown us that technology and digital innovation have revolutionized how we do things, and cryptocurrency can do the same. Transactions are fast, digital, global, and secured by blockchain, which allows the maintenance of records without risk of pirated data. 
Concerning the potential of crypto in Latin America, it's undeniable that it has had exponential growth during the pandemic. There are a couple of explanations for this. One is the high inflation in Latin American countries, such as Argentina and Venezuela, as well as restrictions imposed upon monetary operations. Another is the lack of trust in local currencies, which has increased, resulting in digital currencies becoming a new alternative for investment or savings. I feel that we are on the right track, but we still have a long way to go.
5. Anything else you want to tell the world about?
It's been crazy how my life changed in one year. I never thought that my story would spread so quickly, but the point of telling it is to let people know that it doesn't matter where you come from or how much money you have; DeFi is there for everyone. I am convinced that there are so many other people and stories like mine in which crypto and DeFi played a huge role in their lives. Sometimes I read comments or messages from new people in crypto communities who say they came too late, but they don't realise that this is only the beginning. We are still early adopters, and there's a bright future ahead of us.
I would like to highlight the key role that communities have when you begin this one-way trip down the crypto rabbit hole. It is fascinating the conversation you will find there. Developers, accountants, economists, journalists, translators, merchants, students, and people from all walks of life contribute, willing to help others and explain what they know about different topics from their perspective and experience. Lastly, I'd like to thank DeFi LATAM and DeFi para Principiantes (DeFi for beginners in English) because, without their help, I certainly wouldn't have achieved all this.